Sexual Harassment Attorney in Nashville, Tennessee
Facing Sexual Harassment in the Workplace?
Ask About Our Sexual Harassment Law Services in Nashville, TN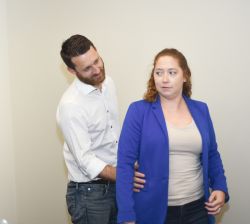 Your workplace should be a safe place where you can grow your career alongside your colleagues. It should foster acceptance and security, not fear. If you've faced sexual harassment in the workplace, you're not alone. Sue Palmer & Associates PLLC can help you seek justice against the employer or coworker who violated your rights and your safety. You can depend on sexual harassment law attorney Sue Palmer to fight aggressively for the justice you deserve.
Call us today to find out more about our sexual harassment law services in Nashville, Memphis, Knoxville, Chattanooga, and throughout Tennessee.
Choose an Attorney Who is Well-Versed in Sexual Harassment Law
When you're looking for an attorney to guide you through your sexual harassment or sexual assault case, you need to make sure you're asking the right questions. As you do your research, ask yourself:
Does this attorney have the right experience? Attorney Palmer has worked on both the prosecution and defense sides of sexual harassment and sexual assault cases. She understands the way the opposition thinks.

Does this attorney know enough about sexual harassment in the workplace? Attorney Palmer presents employee training sessions on sexual harassment in the workplace during her spare time. She is well-versed in local sexual harassment and assault law.

Does this attorney feel passionate about fighting against sexual harassment? Attorney Palmer has dedicated most of her career to fighting for the victims of sexual harassment and sexual assault. She is also a member of the Time's Up Legal Defense Fund.
To schedule a consultation with attorney Palmer in Nashville, Tennessee, call us today. We serve individuals filing sexual harassment claims in Chattanooga, Knoxville, and Memphis, as well as large employers looking to start an in-house sexual harassment investigation.